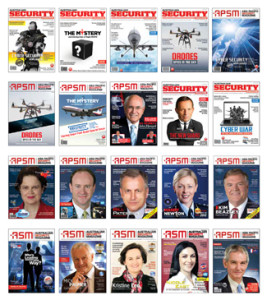 The Australian Security Magazine is the country's leading government and corporate security magazine. It is published bi-monthly and is distributed free of charge to many of the biggest decision makers in the security industry and also sold Australia-wide in selected newsagencies. It is a highly respected and sought after publication, incorporating investigative journalism, provoking editorial and up-to-date news, trends and events for all security professionals.
The Australian Security Magazine has a sister publication – the Asia Pacific Security Magazine. It is published bi-monthly – on the alternate month to the Australian Security Magazine – and its content complements the Australian Security Magazine with a strong focus on events. It is available online to read by all and upon every issue release a direct link is sent to a database of subscribers who are industry decision makers.
Today, My Security Media has grown to become a well respected Media group in the Asia Pacific region. A dedicated media provider to the security industry, we are a primary source of information and reference for security industry professionals, as well as end-users. We engage, educate and listen to our audience across multiple channels to provide the best marketing reach. We work with you to help communicate your message.
For advertising options visit: http://australiansecuritymagazine.com.au/advertise/