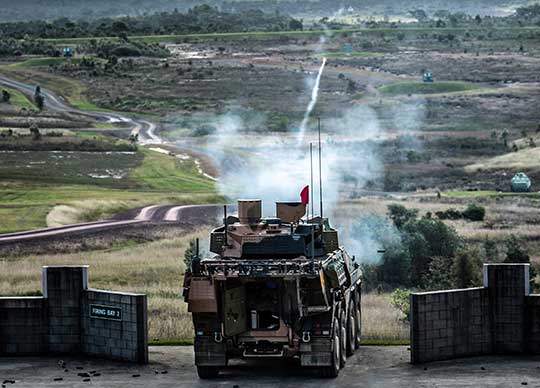 Thales Australia has been contracted by Rheinmetall Defence Australia to manufacture critical weapons components for the Australian Army's new Boxer 8×8 Combat Reconnaissance Vehicles.
"Thales would draw on its extensive experience and Australian supplier base to assist with the manufacture of components for the Boxer's 30mm cannon" announced Minister for Defence Industry Melissa Price.
The components will then be assembled at Rheinmetall's Military Vehicle Centre of Excellence in Redbank, Queensland.
Minister for Veterans' Affairs and Defence Personnel Andrew Gee welcomed the announcement, which will be a boon for jobs and investment in the Lithgow community.
"In 1912, the Lithgow Small Arms Factory, which would become Thales Australia, began producing SMLE 303 rifles carried by Australian forces in WW1," Minister Gee said.
"More than a century later, the tradition of the Australian Defence Force employing not only Australian-made but Lithgow-made weapons continues, with Thales Australia to deliver 30mm cannon components for the new Boxer 8×8 Combat Reconnaissance Vehicles.
"First samples of the weapon components manufactured by Thales Australia in Lithgow have been given the green light, passing stringent quality control checks by Rheinmetall in Germany.
"The manufacturing partnership will create about 10 new jobs and provide support for the 130 jobs already at the Lithgow site.
"The Lithgow Arms Factory is part of the fabric of the Lithgow region and plays a key role in our national defence capability, ensuring our ADF personnel have access to world-class military weapons."
Rheinmetall Defence Australia will deliver and support 211 Boxer 8×8 Combat Reconnaissance Vehicles. A key investment under the 2020 Force Structure Plan, under the LAND 400 Phase 2, Combat Reconnaissance Vehicle project to replace the Australian Army's Australian Light Armoured Vehicles.
The Boxer vehicles will provide enhanced mobility, firepower and protection in environments ranging from regional stability missions to high threat operations.