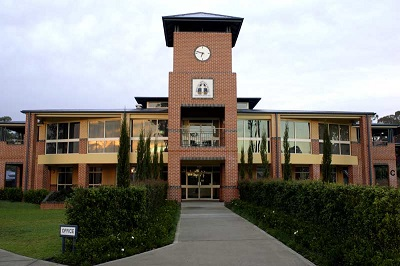 Rouse Hill Anglican College is an independent Christian school located in Rouse Hill, in Sydney's expanding north-west. It is an Anglican co-educational school for students from Kindergarten to Year Twelve.
The College was using mechanical keys to control access into different buildings and classrooms but if keys were lost that meant the expense of cutting new keys and sometimes having to replace the lock as well. To eliminate the necessity and cost of this, it was decided to upgrade security to a keyless electronic access control solution.
John Binney, Property Manager at Rouse Hill Anglican College says "Having kept up to date with changes in the security world, I knew that migrating from a mechanical key system to electronic access control could give us a virtually 'keyless' property that would be secure, and easier to operate and manage.
"We looked at several systems that could do the job but after a presentation by local security specialists, Independent Locksmiths and Security, we could see SALTO was a great solution and were happy to go with their recommendation of it" Binney said.
Ryan McGovern, General Manager at Independent Locksmiths and Security comments "When we explained to the College how SALTO Australia has an established base of School and College customers to whom they provide security, access control and campus management they wanted to know more.
"A demonstration of SALTO's ability to control access, download audit trail information in real time, delete users remotely and securely, lock and unlock doors remotely and collect lock battery status for maintenance sealed the deal. We have now installed 120 SALTO XS4 offline electronic handle sets together with a small number of CU50ENSVN (SALTO Virtual Network) controllers in the administration area as well as into classrooms and offices throughout the College."
John Binney concludes "Our new SALTO access control system provides us with good effective security. We particularly like its SVN operating system and the fact that the RFID cards give us multi-application capability for as and when we want to use it."
About SALTO Systems
We're driven by innovation. Guided by our insights into customer needs, we deliver industry-leading, next-generation electronic locking solutions without wires and without mechanical keys. Since 2001, SALTO has been redefining the access control world by continually being first to anticipate market needs in a rapidly evolving marketplace. We set new standards in security, manageability and scalability. SALTO's pioneering SVN platform provides stand-alone networked locking solutions. With its online and real-time technology, our market-leading XS4 platform enhances the usability of every building environment by securing virtually every door and enabling the monitoring and control of every user. SALTO hardware and software can be networked without wires to provide real-time intelligence and instant control, whilst enabling integration with existing systems to improve manageability and enhance end-user experience. Having revolutionized access control around the world in sectors where security is critical – from airports and healthcare to government education and hotels – we continue to deliver the most advanced and flexible electronic locking solutions in the market.  For more information, visit www.saltosystems.com