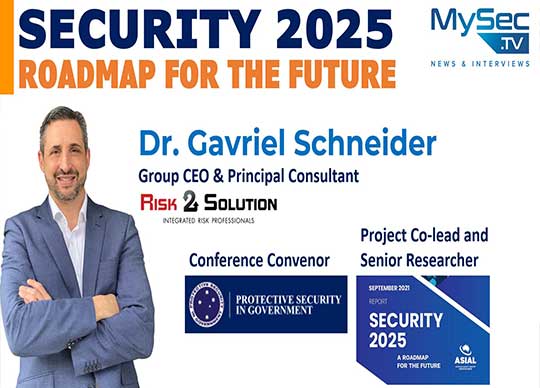 We cross to Brisbane and speak with Dr Gavriel (Gav) Schneider, Group CEO of Risk2Solution Group, as well as the Conference Convenor for the Protective Security in Government Conference, (14-15 October) and the Project Co-Lead and Senior Research for the Security 2025: A roadmap for the future report.
Australia will not be equipped to handle future security challenges unless governments, business and the Security Industry work as a team to bring about much needed reform, collaboration and planning. That's the frank warning in the Security 2025 Report, released on September 23, commissioned by ASIAL and conducted by the Australian Security Research Centre.
The report examines where Australia's Security Industry is today and identifies where gaps will have to be filled if we are to keep pace with the emerging challenges and threats in the near future.
The report's Head Researcher, Dr Gavriel Schneider said the key to Australia's future security wellbeing is to move quickly to a more collaborative approach in which government, business and the Security Industry work together instead of in isolation.
To that end, Security 2025 recommends the creation of a Security Industry Coordination Office within the Home Affairs Ministry to facilitate rather than direct achieving national regulatory uniformity.
The PSG Conference #PSG2021 is about "Building Cyber Resilience into Critical Infrastructure at Home and in the Indo-Pacific" and will provide an opportunity to connect with leading authorities, industry professionals and government agencies.
This conference offers two days (14th and 15th October) of networking, presentations, conversation and discussion about security governance and information, personal and physical security. Check out the 30+ world-class speaker line-up and purchase your online pass here.
#mysecuritytv #intelligence #nationalsecurity #nationalresilience #psgconference