Australia's first International Cyber Engagement Strategy establishes Australia's international cyber affairs agenda, with a vision of Australia's interests and objectives in cyberspace over the next three years.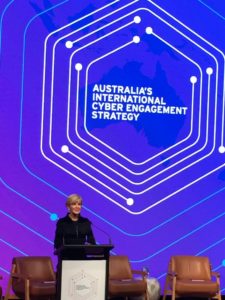 Launched in Sydney on October 4, by The Hon Julie Bishop MP, Minister for Foreign Affairs and Dr. Tobias Feakin, Australian Ambassador for Cyber Affairs, the announcement was followed by a panel session featuring David KOH, CEO of the Cyber Security Agency of Singapore, Sam Yorke, Google Australia, Dalsie Baniala, CEO Vanuatu Tellecommunications & Radiocommunicatoons Regulator's Office, Elina Noor, Director ISIS Malaysia and Adrian Turner, CEO Data61.
"Cyberattacks are borderless and the consequences range beyond one organisation, sector, or country. The security of Australia's organisations depends on cybersecurity and capacity-building across the region and around the world".
"Protecting individuals and organisations from cyberthreats requires a multi-stakeholder approach that allows the private sector, academia, technical experts, civil society and governments to contribute equally to discussions on cybersecurity".
"This makes threat intelligence sharing absolutely critical for businesses around the world and especially here in Australia. Businesses can't defend against what they can't see. Though some organisation would rather not publicise potential breaches, sharing threat intelligence lets businesses and governments pool their collective resources against cybercriminals".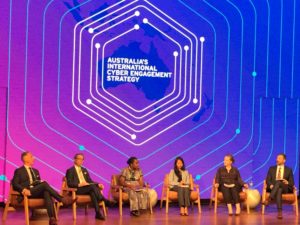 "Attackers themselves are already following a collaboration model, which makes them more efficient and stronger. To get ahead of these cybercriminals, the private and public sectors need to work together to automate threat sharing so everyone has access to the same data to develop new ways to thwart their attacks".
Palo Alto Networks supports Australian Government Initiative for cybersecurity capacity-building in ASEAN
In support of the capacity-building efforts of Australia's new International Cyber Engagement Strategy, Palo Alto Networks will deliver training and sharing of best practices to businesses in the region. The project will raise the understanding of cybersecurity as a business risk within C-suites in ASEAN countries.
"You will note throughout this strategy that partnership is the watchword. The Australian Government appreciates that, to deliver on our ambition to increase regional cyber capacity we need innovative partnerships with the private sector.
"Palo Alto Networks will conduct technical and other cybersecurity training for ASEAN businesses in partnership with industry and this will complement the initiative to translate our very own Australian Signals Directorate's world-leading, 'Essential Eight' mitigation strategies".
– The Hon Julie Bishop MP, Minister for Foreign Affairs
"In order for the market to reach its full potential, we must combat cybercrime and help close digital divides in the region. This is a joint effort, requiring businesses and governments to share information and collaborate. That's why Australia's new international Cyber Engagement Strategy emphasises partnering with the private sector, and companies like Palo Alto Networks, who are at the frontline of helping businesses understand and mitigate the cyberthreats they face".
– Dr. Tobias Feakin, Australian ambassador for Cyber Affairs
"Palo Alto Networks welcomes and supports the government's International Cyber Engagement Strategy. Security is no longer an IT risk; it's a business risk and protecting the organisation requires a top-down approach where the focus is on prevention, rather than detection and mitigation. Different markets face different challenges, and businesses can't defend against what they don't know about. Therefore, engaging with businesses and governments across the region is essential to help improve cybersecurity across the board".
"Security is a culture that every organisation needs to build, strengthen and foster across all levels of the business. Leaders have to ensure cyber risk is incorporated into their organisation's overall risk management strategy. Palo Alto Networks aims to educate and empower business leaders to make informed decisions on managing cyber risks so that they can run their organisations securely while preventing material impact to them from successful cyberattacks".
– Sean Duca, vice president and chief security officer, APAC, Palo Alto Networks
Download Australia's International Cyber Engagement Strategy at a Glance or visit
http://dfat.gov.au/international-relations/themes/cyber-affairs/aices/preliminary_information/introduction.html